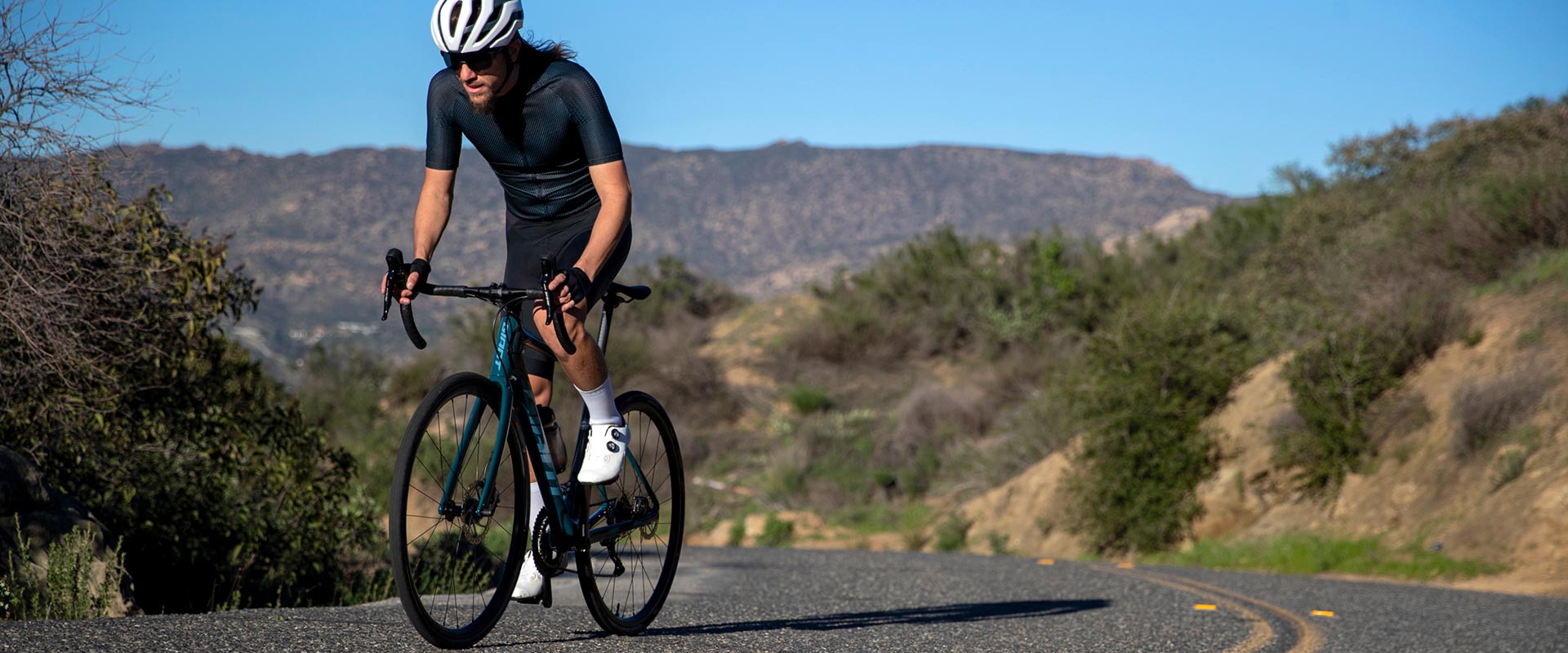 C'est sur les longues sorties, quand la route devient mauvaise, qu'un vélo endurance fait la différence.
Points importants
Handcrafted with Advanced-grade composite material, the Defy Advanced is made with a specific carbon layup to give it an efficient, high-performance ride quality that helps you push new limits of endurance. The D-Fuse seatpost and handlebar system also help reduce road vibrations, adding to its smooth, compliant feel on the road. A tubeless Giant WheelSystem and tires boost speed and efficiency with a reduced risk of flats. And for added control, it features integrated disc brakes with flat-mount disc brake tabs and 12mm thru-axles.

Galerie Photos
Selecting any of the image buttons will open a larger image gallery with image descriptions
Technologies

Advanced Composite
Le matériau en fibres de carbone haute performance de Giant nous permet de fabriquer ce kit cadre au sein de notre propre usine de composite. Grâce à des techniques de fabrication et matériaux de pointe, les cadres en composite Advanced de Liv bénéficient d'un maximum de rigidité et de confort tout en étant particulièrement légers.

Compact Road Design
Lors de sa présentation par Giant dans les années 1990 avec le Team Once, le design Compact Road a durablement révolutionné les sensations ainsi que l'apparence des vélos de route haute performance. Un tube supérieur incliné (de la douille de direction au tube de selle) forme de plus petits triangles avant et arrière, pour un vélo plus léger et rigide. Ce design permet également aux cyclistes de toutes tailles de trouver plus facilement l'ajustement parfait.

D-Fuse
La tige de selle et le cintre D-Fuse ont été conçus comme un ensemble, absorbant les aspérités de la route et les chocs pour vous permettre de rouler plus loin et plus vite.

OverDrive
Conçue pour améliorer la précision de la direction de la partie avant, cette technologie de pivot de fourche utilise des roulements surdimensionnés dans le jeu de direction (pour la route, inférieur 1 1/4", supérieur 1 1/8", et pour le tout-terrain, inférieur 1 1/2", supérieur 1 1/8") ainsi qu'un pivot de fourche conique, qui fonctionnent en association pour apporter une rigidité optimale de la direction.

PowerCore
La partie surdimensionnée à l'extrême du boîtier de pédalier et des bases arrière comprend un boîtier de pédalier de 86 millimètres de large (92 millimètres pour les vélos tout-terrain) parfaitement intégré. Les bases arrières asymétriques permettent une rigidité supplémentaire et une meilleure stabilité.

Tubeless System
Moins de crevaisons, plus d'adhérence. Une résistance au roulement moindre, pour un pilotage plus précis, plus rapide. Le système tubeless de Giant rend tous ces avantages plus accessibles que jamais.